James S. Bostwick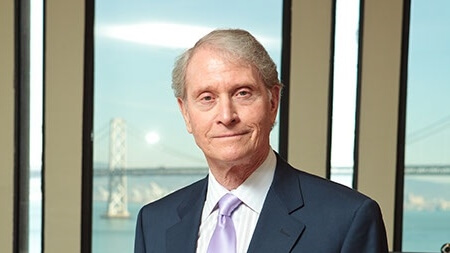 Four Embarcadero Center, Suite 750
San Francisco, California 94111
Attorney James Bostwick founded Bostwick & Peterson, LLP. He is a highly experienced medical malpractice and personal injury lawyer serving the Inland Empire with a history of excellence in advocacy. He has been practicing law as a trial attorney for more than 35 years, serving Colorado, Hawaii, Oklahoma, Nevada, Washington, Florida, Arizona, and other states from his main office in San Francisco, California.
Exemplary Legal Representation in California
As the former president of the International Academy of Trial Lawyers—considered by many to be the most prestigious and exclusive trial lawyers organization in existence with just 500 plaintiff and defense trial lawyers invited to join—Attorney Bostwick is also a member of the California and Hawaii State Bar Associations.
Other distinguishing factors include:
Attorney James Bostwick is one of the only attorneys in the United States to have earned his board certification as a specialist from the American Board of Professional Liability.
He is a member of the Inner Circle of Advocates, which includes just 100 of the leading plaintiff lawyers in the nation.
He has achieved numerous record-breaking jury verdicts and settlements for his clients at the local, state, and national levels.
He is among just 60 plaintiff attorneys in California to be listed in the book of "Best Lawyers in America"—and one of just a handful to be listed since the book's first edition in 1983.
Mr. Bostwick was nominated for the prestigious title of "Trial Lawyer of the Year" in 2012 and again in 2013.
After a recent record-setting verdict, he was awarded the annual Presidential Award of Merit by the California Trial Lawyers Association.
Numerous magazines including Newsweek, Town & Country, and Forbes have featured Mr. Bostwick as one of the nation's top trial attorneys.
The California State Bar Journal and the San Francisco Chronicle have recognized him as one of the top trial attorneys in the Bay Area.
The California State Bar Journal also featured him as one of the top legal malpractice specialists in the state of California.
He has been included in the list of Top 100 California Super Lawyers® for many years.
If you've been injured, you can benefit from the experience of Attorney Bostwick: Call Bostwick & Peterson, LLP today for a free review at (951) 435-8229.